Door Knob Repair
Door Knob Repair Service By Lone Star Locks And Keys, San Antonio TX
When You Need a Door Knob Repair Service
You know you need a door knob repair service from your favourite Lone Star Locks and Keys locksmiths when one of the following happens to you:
Your door knob falls off in your hand.

Your door knob is permanently in a jammed position.

Your door knob is moving but the latch is not.

You can't open your door.

You can't close your door.
If one of the above or any other occurrence is happening with your door knob, then it is frustrating. We have learned to depend on our ability to close the door and have some privacy, no matter whether it is a bathroom door, a bedroom door or just the door to the front room. If a door will not open, it will mean you having to spend time and energy trying to pry it open, maybe even searching the internet for 'how to open a stuck door', which after trying to kick the latch area may be followed by a search for 'how to repair a door knob' and a quick call to the emergency services. What you really need though, is to call our services to get the job done with particular professional style and efficiency. We will arrive within 30 minutes of your call, we will instantly be on our way so it could be a lot less, and we will present ourselves with all the right tools for the job and a selection of replacement knobs if necessary.
How to Repair a Door Knob
To know how to repair a door knob requires an internal working knowledge of door knobs and different types of door knob mechanisms. It looks so simple from the outside-just turn and push/pull-but inside lay a hidden set of connected parts that need to be just right for everything to operate smoothly. When things go wrong behind the scenes, you tend to know about it fairly quickly. To know how to do the repair, first you should deduce which problem has occurred. Usually it is one of five. If the knob has been tampered with or installed by a rookie with an electric screwdriver then it is possible the screws may have been overtightened, strangling the mechanism. It could be something as simple as a lack of lubrication to the internal springs, if this is the case then our work will be done very quickly with no need of a replacement. The door could be the problem if it has dropped, effectively jamming the latch under the weight of the door. If the handle back plate is not lying flat, then the internal neck could be bound to the door. Lastly, If the problem lies with a broken spring, because a cheap version has been installed or lubrication was not applied in time, then there will be no repair necessary. Rather you should have us fit a quality replacement latch.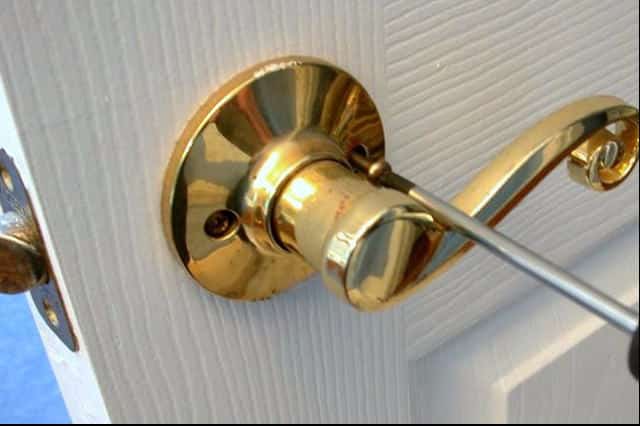 We Know Our Door Knobs
Our internal working knowledge of door knobs and different types of door knob mechanisms is second to none! We have worked closely with all sorts of door knobs for many years, there is not much that we haven't seen and dealt with. The inside of the door knob is not a mystery to us, in fact however different the outside looks, the inside is usually a pretty standard setup. The knob turning creates a knock on effect. The cylinder is pulled which pulls the spindle that it is connected to, everything moves to incorporate the latch into the door allowing the door to open. When released, all the parts move in the opposite direction and the spring puts the latch back into position on the outside of the door to close the door. The closure of the door is very important as it allows you to keep the warm air in your house, saving your energy and money. If it is jammed it will effectively be losing you money! Adding insult to injury. The back plate is also very handy. It is home to the keyhole cover, turn and release locks can be placed on them for bathroom use especially, or a keyhole can be cut through the back plate to make access more secure. If you prefer a plain back plate, then you can have a latch lock on the door. There are many options for you to choose from when looking at the aesthetics of door knobs, so while you get to work choosing between brass, glass or white porcelain etc. let us worry about the mechanisms. Call us to have us over instantly or to set up an appointment if you fancy a change and would like to see what we can offer you.
Don't Know How to Repair a Door Knob?
That's why you should call us. Do not attempt to fiddle with the door knob yourself if you have no professional training as you could break what could have been a completely repairable door knob. You really should use Lone Star Locks and Keys excellent door knob repair service to deal with your problem in an efficient and affordable manner. We know that you probably have not included our services in your budget, which is why we keep our prices competitive and as low as possible. All of our technicians are highly trained and certified to work on any lock related challenge that comes your way. All our employees have passed background checks and you will recognise them by the marked vehicle and professional uniforms they wear. If you need to replace your door knob and decide to replace other door knobs in the process, we are more than happy to help. We know people tend to like consistency in their décor, so just inform our team and we will bring you all you ask for. Call or email us for a free quote today to get a handle on your problem and to start saving energy and money.